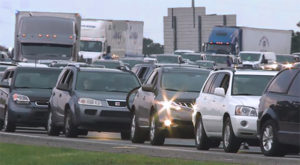 The NCDOT is now warning Charlotte drivers to avoid traveling on I-77 Southbound if at all possible due to Hurricane Irma evacuees returning home.
Traffic on I-77, as well as I-95 and I-26 is expected to worsen over the next few days as the remainder of shelters in our region empty and other Florida residents travel home from staying with friends and family along the East Coast.
According to a press release, the NCDOT will be opening up all available lanes indefinitely, "To ease the congestion, the N.C. Department of Transportation has suspended lane closures during the day for the southbound lanes of Interstates 95 and 77 and the eastbound lanes of I-26." They are recommending all local drivers to take side roads if possible to limit congestion (check out the Waze App or CoPilot GPS for the best alternative routes).
Unlike the evacuation, the return will be spread out over several days, as some people took the week off, and others wait for news that the water in their flooded neighborhoods receded.
The Queen City became one of the primary destinations for Hurricane Irma evacuees after the storm's track shifted further West and was predicted to cross over Atlanta and Nashville. It's been reported that every single hotel room in Uptown Charlotte was booked this past Monday and Tuesday nights.
Comments
comments