Today the NCDOT announced plans to reduce the speed limit on a 30-mile stretch of 485.
The reduction will affect both directions of highway 485 between West Charlotte's NC 27 and Matthew's Independence Blvd. (US 74).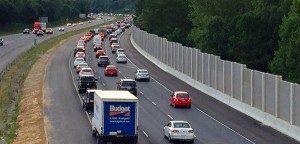 According to a statement from the transportation department, the speed limit will be reduced from 70 mph down to 65 mph in an attempt to reduce crashes in the area.
The department analysed crash patterns around the loop and found that this 30 mile section saw a 54% increase in crashes and a 27% increase in traffic volume over the past 3 years.
The new speed limit will take effect on Sept. 23rd. New speed limit signs will be installed on that date.
Comments
comments