The NCDOT has just announced a complete plan to build new toll lanes in both directions on I-485 between 77 and Independence. The new plan hopes to shorten drive times in South Charlotte and ease congestion on 485.
The plan calls for tolls to be added to the inner lanes of 485, which are currently built, but not being used.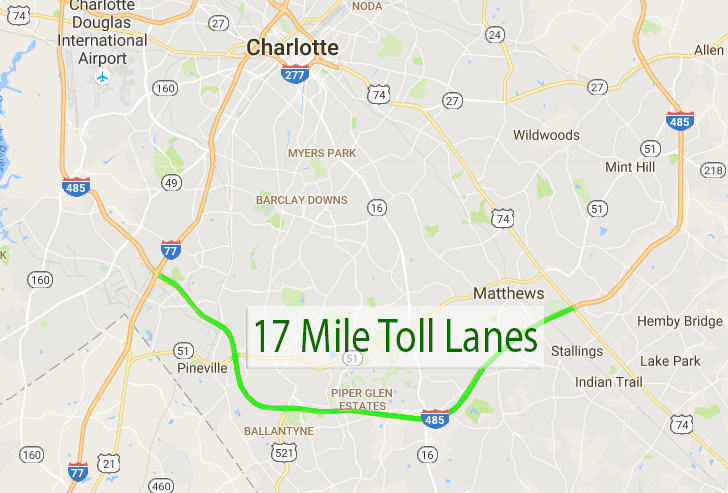 The plan would differ from the toll lanes now being built on I-77 in that they would be built by the state, instead of by a private company (Cintra), so they would not need to make a profit – theoretically this should make the toll lanes less expensive to travel on.
According to the NCDOT's announcement:
"The proposed project will add one express lane in each direction on I-485 between I-77 and U.S. 74 (Independence Boulevard). The proposed improvements will provide travel time reliability and improve traffic flows on this critical transportation corridor. This project will serve as part of a larger network of express lanes to offer drivers a new traffic choice – pay a fee and ride in the express lanes to avoid traffic delays or continue driving in the general purpose lanes for free."
The NCDOT will be holding two public hearings to better explain the location and design of their new plan, and to talk about the state-federal relationship, right of way requirements, and procedures surrounding the construction and maintenance of the new tolls.
The public hearings will be held at the following dates and times:
Tuesday, January 17
4 P.M. to 6:30 P.M.
Formal Presentation – 7:00 P.M.
Pleasant Plains Baptist Church
3316 Pleasant Plains Rd., Matthews, NC
Thursday, January 19
4 P.M. to 6:30 P.M.
Formal Presentation – 7:00 P.M.
South Charlotte Banquet Center
9009 Bryant Farms Rd., Charlotte, NC
You can see detailed renderings of the entire toll lane proposal here.
For additional information, you can contact Project Manager, Angela Sanderson, NCDOT Project Planning Engineer, at amsanderson@ncdot.gov or call (919) 707-6042.
What do you think about toll lanes being built on 485?
Please let us know your thoughts in the comments below! 
Comments
comments