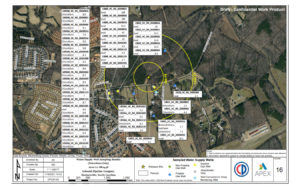 Over a year after the largest American gas spill in decades, the North Carolina Department of Environmental Quality (NCDEQ) has now filed a lawsuit in the Mecklenburg Court system to force the $8 billion company to comply.
The suit claims that Colonial hasn't followed through with what its plans to assess and cleanup the massive spill.
In a press release, NCDEQ Secretary Elizabeth S. Biser noted, "Colonial owes it to the people of North Carolina to cooperate with DEQ and be forthcoming with the information required by our statutes, starting with an accurate estimate of how much fuel was released into the environment."
The spill was first detected on August 14th coming from a ruptured Colonial Pipeline gas line near Huntersville's Oehler Nature Preserve. The liquid petroleum gas line that ruptured runs 5,550-miles from Texas, through the southern states, to New Jersey.
In days following the Aug. 14, spill, Colonial said they believed that 63,000 gallons had spilled into the surrounding Mecklenburg County nature preserve, but they soon adjusted that figure to 272,000 gallons.
Cleanup efforts have since revealed that even their 272,000-gallon estimate was way off.
According to their report, "a total of 50 vacuum enhanced recovery wells have been installed within the release area. Pneumatic recovery pumps have been placed in the wells and vacuum is applied to the wells to enhance recovery. As of January 16, 2021, approximately 569,003 gallons of gasoline-free product and approximately 217,959 gallons of petroleum contact water have been recovered from the recovery well network."
The company has installed a total of 81 groundwater monitoring wells near the location of the spill, and while they say they have not detected any petroleum products "laboratory reporting limits", the well data does show significant contamination of at least 20 chemicals in the water, many of which are dangerous carcinogens.
Colonial has said it has spent at least $10 million on the cleanup effort so far.
Comments
comments