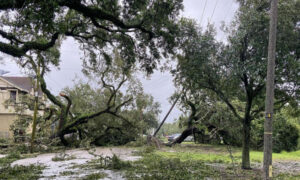 North Carolina has just sent our own 113th Combat Support Sustainment Battalion (CSSB) to help with the aftermath of Hurricane Ida, which struck on Sunday with 150 mph sustained winds, tied for the 5th-strongest hurricane to ever hit the US mainland.
At least 5 deaths have already been confirmed and hundreds more are still unaccounted for as only about 35,000 of the 405,000 homes and businesses in New Orleans and Jefferson Parish had power Thursday morning, according to the poweroutage.us. Statewide, there are currently 917,000 customers without electricity, down from about 1.1 million at the height of the storm.
"The people of North Carolina received help from many other states after hurricanes Matthew and Florence," said Governor Roy Cooper. "We are glad to send this assistance to help Louisiana recover from Ida's devastation and thankful to our National Guard men and women for their service during this emergency."
The 113th Sustainment Brigade HQ Support Co. from Lenoir is deploying approx. 65 personnel to the Gulf this week to help Louisiana recover from #Hurricane_Ida devastation. The soldiers will provide logistical management expertise supporting the distribution of relief supplies. https://t.co/PxORQRZ4v8

— NC National Guard (@NCNationalGuard) September 2, 2021
The CSSB troops will assist in overall logistical management of the search and rescue efforts around the greater New Orleans area.
"This demonstrates the National Guard's dual mission role, to help our neighbors here at home and defend our nation abroad," commented Major General Todd Hunt. "The unique role of the National Guard allows our states to share resources and help our citizens when disasters strike."
Comments
comments