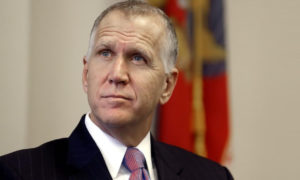 North Carolina's Republican Senator Thom Tillis is about to give Senate Democrats their needed 4th vote to a pass a resolution overturning President Trump's emergency declaration for wall funding.
The resolution introduced in the House passed the chamber on this past Tuesday, with 13 Republicans voting alongside Democrats. The resolution now moves onto the Senate, which has a maximum of 18 days from Tuesday to vote on it.
Tillis wrote an op-ed in the Washington Post going into detail about why he would vote for the resolution and against the President.
"As a U.S. senator, I cannot justify providing the executive with more ways to bypass Congress," he noted. "As a conservative, I cannot endorse a precedent that I know future left-wing presidents will exploit to advance radical policies that will erode economic and individual freedoms."
Senate Democrats need at least 4 Republicans to vote with them for the measure to pass. Along with Tillis, Republican Senators Susan Collins of Maine, Lisa Murkowski of Alaska and Rand Paul of Kentucky have all stated they will vote with the Democrats against the President's declaration.
Trump has promised to veto the measure if it passes through the House and Senate and reaches his desk. This would become his first presidential veto since taking office.
If passed by the Senate and the President vetos it, the measure would then need to go back to Congress and have at least two-thirds of members in both chambers overrule the veto for the measure to stand.
What do you think about the emergency declaration?
Comments
comments