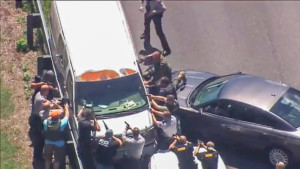 The North Carolina House and Senate are now in the final stages of creating a new law that would require information and training about police stops in driver's education.
The Senate just unanimously approved HB21 yesterday, with supporters saying the new training would help young drivers avoid violent or deadly encounters between motorists and officers.
North Carolina's new House Bill 21 specifically states that driver's education will now require; "Instruction on law enforcement procedures for traffic stops that is developed in consultation with the State Highway Patrol, the North Carolina Sheriff's Association, the North Carolina Association of Chiefs of Police, and the North Carolina Police Benevolent Association. The instruction shall provide a description of the actions that a motorist should take during a traffic stop, including appropriate interactions with law enforcement officers."
The new information would be included in North Carolina's driver's ed materials, in school curriculum, as well as during on-the-road training. It would be developed while consulting with local and state police agencies.
Now that the Senate has passed their revised version of the bill, it will now go on to the House for approval, then to the governor's desk.
What do you think about adding police stop training in driver's ed? 
Comments
comments