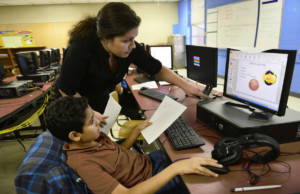 North Carolina State Lawmakers just passed House Bill 13, which will force a reduction of Kindergarten through 3rd grade class sizes if it is approved by the NC Senate.
Beginning in the 2017-18 school year, the maximum K-3 class sizes would drop from 24 students to between 19 and 21 students, depending on grade level. The maximum average class sizes for North Carolina districts will be even lower.
Although the smaller class sizes would be better for students, allowing teachers to give more attention to each student, the new changes didn't come with any additional money.
School systems around North Carolina are now saying that unless the restrictions are lifted, they would have to scale back the number of teachers in "non-core" subjects like art, music, physical education and foreign languages to free up money to hire more teachers. Some administrators have said they would have to expand class sizes in grades four through 12 to pay for the smaller K-3 classes.
School districts and education groups are currently lobbying lawmakers to reverse their decision, since planning is about to start this coming spring for the 2017-18 school year.
What do you think about North Carolina's new House Bill 13? 
Comments
comments