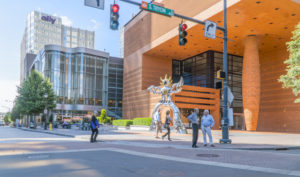 North Carolina just reported its lowest unemployment number in over a year in May's Unemployment Report. We also recorded a substantially lower unemployment rate of 4.8% than the national average of 5.8%.
According to the report:
"North Carolina's May 2021 unemployment rate decreased 8.7 percentage points from a year ago. The number of people employed decreased 4,550 over the month to 4,757,351 and increased 605,656 over the year. The number of people unemployed decreased 11,691 over the month to 239,523 and decreased 407,991 over the year."
Our state saw it's biggest increase of workers in the Leisure & Hospitality Services with 7,600 jobs added last month, and Trade, Transportation & Utilities with 2,100 jobs added last month.
Seasonally Adjusted Unemployment Rates since May 2020
| | | | | | | | | | | | | | |
| --- | --- | --- | --- | --- | --- | --- | --- | --- | --- | --- | --- | --- | --- |
| | May 2020 | June 2020 | July 2020 | August 2020 | Sep 2020 | Oct 2020 | Nov 2020 | Dec 2020 | Jan 2021 | Feb 2021 | Mar 2021 | Apr 2021 | May 2021 |
| N.C. | 13.5 | 8.8 | 8.8 | 6.8 | 7.3 | 6.8 | 6.4 | 6.1 | 5.9 | 5.7 | 5.2 | 5.0 | 4.8 |
| U.S. | 13.3 | 11.1 | 10.2 | 8.4 | 7.8 | 6.9 | 6.7 | 6.7 | 6.3 | 6.2 | 6.0 | 6.1 | 5.8 |
Comments
comments