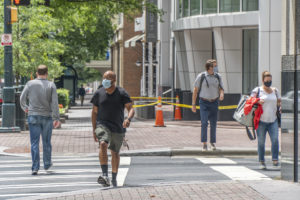 North Carolina has just recorded its highest number of new Covid-19 cases in 1 day, and the first time our state saw over 10,000 cases recorded in a 24-hour period.
NC Department of Health and Human Services officials have just announced that there were a total of 10,398 new cases recorded today – the highest number our state has seen since the pandemic started (beating the previous highs of 9,527 on 1/1 and 8,551 on 12/30).
Our state also saw its highest number of COVID-related hospitalizations today at 3,960.
One day after Gov. Roy Cooper extended his modified stay-at-home order to help slow the spread of COVID-19, North Carolina health officials reported a single-day record for new infections.
The Department of Health and Human Services reported 10,398 new cases, marking the first time North Carolina had over 10,000 cases in a single day. Hospitalizations due to the virus are also set a new record, with 3,960 people being treated for COVID-19 statewide.
Today's record numbers comes just a day after NC Governor Roy Cooper announced that his modified stay at home order will stay in place for at least 3 more weeks.
What do you think about the recent spike in numbers?
What else do you think should be done to curb the spread?
Comments
comments