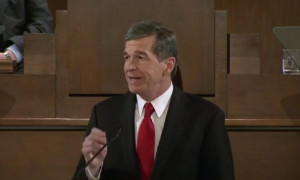 Last night, NC Governor Roy Cooper just delivered his first 'State of The State' address to the people of North Carolina. The speech was fairly consistent with the policies he has been speaking about since the start of his campaign, speaking about improving education, fighting our state's opioid addiction, increasing LGBT rights, helping Hurricane Matthew victims, and changing our state's 'Republican' tax policy.
He also spoke at length about trying to reach across the isle and work with Republicans. "I promise to listen, to engage, to build consensus, to compromise when possible. I promise to fight only when we can't come to agreement or when you leave me no choice," the Governor commented during his 30-minute address.
You can watch the entire speech here:
Republican Senator Phil Burger delivered the GOP's official response to the first State of The State address later in the night. He started off by saying, "Tonight, we heard the Left's new champion – Roy Cooper – push their vision for the future of North Carolina, except it is not a vision for the future of North Carolina at all. It's a mirage. It's merely a retreat to our troubled past."
You can watch his entire response here:
How do you think Governor Cooper is performing so far?
Comments
comments