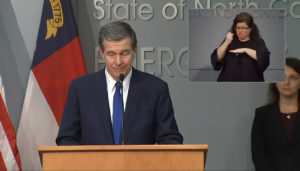 NC Governor Roy Cooper has just officially ended the state of emergency for Covid-19 in our state.
According to a press release about the decision, state officials note that since vaccines, boosters, new treatments, and other Covid-fighting tools are so widely available, we no longer need for the official 'State of Emergency' (first issued in March of 2020) to remain in place.
"The pandemic brought unprecedented challenges to our state and people now have the knowledge and the tools like vaccines, boosters and therapeutic treatments to keep them safe," said Governor Cooper. "Executive orders issued under the State of Emergency protected public health and helped us save lives and livelihoods. North Carolina is emerging even stronger than before and my administration will continue to work to protect the health and safety of our people."
You can read the full Executive Order here.
Comments
comments