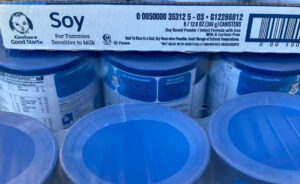 The North Carolina Department of Health and Human Services (NCDHHS) has just issued an alert cautioning all parents who use formula to be warry of a newly recalled product line potentially containing a bacteria that can lead to illness in infants.
NCDHHS specifically noted Perrigo's recent recall of Gerber's Good Start powdered infant formula, which has a potential presence of the bacteria Cronobacter (a bacteria that can cause very serious infection in infants).
The recall notes that anyone purchased the product after March 5, 2023, should check their formula's Lot Codes and "use by" dates, found on the bottom of the package. Any consumers who have the following codes should immediately discontinue use:
Gerber® Good Start® SoothePro™ 12.4 oz:
300357651Z – USE BY 04JUL2024
300457651Z – USE BY 05JUL2024
300557651Z – USE BY 06JUL2024
300557652Z – USE BY 06JUL2024
300757651Z – USE BY 08JUL2024
300857651Z – USE BY 09JUL2024
301057651Z – USE BY 11JUL2024
301057652Z – USE BY 11JUL2024
301157651Z – USE BY 12JUL2024
Gerber® Good Start® SoothePro™ 30.6 oz: 
301357652Z – USE BY 14JUL2024
301457652Z – USE BY 15JUL2024
301557651Z – USE BY 16JUL2024
Gerber® Good Start® SoothePro™ 19.4 oz: 
301557652Z – USE BY 16JUL2024
If you have any additional questions, you can contact the Gerber Parent Resource Center at 1-800-777-7690.
Comments
comments