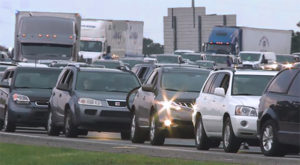 The North Carolina Court of Appeals just ruled against Widden I-77's toll lanes case. After a long fought battle, the court basically just threw out all of their legal objections against the toll lanes.
According to Widden I-77, the court basically found that:
(1) delegating the unfettered right to set tolls to a private company on public infrastructure is an appropriate delegation of authority;
(2) 50 years of private tolling serves a public purpose;
(3) the project does not reduce the number of general purpose lanes because the contract says it does not; and
(4) tolls are not taxes.
The group also noted that, "the court did not mention the fact that a portion of toll revenues are to be paid to the state as required by the P3 statute, nor did they mention the fact that the contract sets a threshold for revenue sharing so high it constitutes a de facto elimination of revenue sharing thereby violating the P3 statute."
Widen I-77 will now begin to plan their next actions against the toll lanes, they noted that they do not plan on giving up the fight.
You can find out more about the group on their website, WidenI77.org.
What are your thoughts on the new toll lanes?
Comments
comments