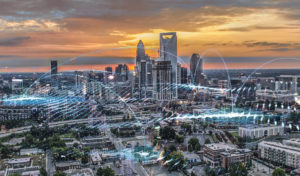 Two North Carolina agencies were recognized this week at the National Association of State Chief Information Officers (NASCIO) annual conference, which brings together state chief information officers, other technology officials and technology organizations from across the country. The NASCIO State IT Recognition Awards are held annually to recognize innovative technology solutions utilized by state governments.
The N.C. Department of Health and Human Services (NCDHHS) and the N.C. Department of Information Technology (NCDIT) won the Data Management, Analytics and Visualization award for its Business Intelligence Data Platform (BIDP): "Bridging the Data Divide and Bringing Health Equity." The N.C. 911 Board, a division of NCDIT, won the award for Enterprise IT Management Initiatives for its leadership in Next Gen 911.
"The Next Gen 911 and COVID-19 dashboard projects demonstrate how we are leveraging technology to transform government services for North Carolinians," said Jim Weaver, state chief information officer and secretary for NCDIT. "It is an honor for that work and our people to be recognized on a national level."
When COVID-19 hit N.C., NCDHHS was faced with mountains of data from many different data systems that needed to be collected, cleaned and manually entered. Often, by the time the data was entered, it was already out of date. NCDHHS needed a system that the organization could use in real time and deliver to the public almost instantaneously. With the help of NCDIT, NCDHHS stood up BIDP, a HIPAA-compliant, cloud-based platform, within 48 hours of COVID-19 impacting our state. The platform collects COVID-related data from 10 different dashboards and automatically processes it.
"BIDP allowed NCDHHS to break out COVID case counts by demographics, which helped to further shine a light on the disproportionate impact COVID-19 has on historically marginalized populations," said NCDHHS' Deputy Secretary for Operational Excellence, Dr. Cardra Burns. "BIDP helped us to prioritize data transparency, drive accountability, promote equity, and guide our decision-making."
Technology has changed the way residents communicate on a daily basis, and that includes when they need emergency services. Emergency services across the country realized this change, and have migrated from a "legacy" system, which only accepted phone calls, to a Voice over Internet Protocol (VoIp) system. VoIP can not only accept text messages but can better pinpoint the location of a caller and provide call backup in the event a 911 call center is hit with a natural disaster or call overload. The N.C. 911 Board contracted with AT&T and GeoComm to be the leader in this transition, with a hosted and managed approach. In 2018, Durham 911 became the first call center in the country to be transitioned over to this system.
N.C. also had two other finalists in the NASCIO awards. The N.C. Department of Commerce's Division of Employment Security partnered with NCDIT to create an unemployment benefit claim status solution, which was a finalist in the Information Communications Technology Innovations category. NCDIT was a finalist in the Cybersecurity category for its whole-of-state approach to cybersecurity, which increases its ability to protect state data and taxpayer funds.
Comments
comments