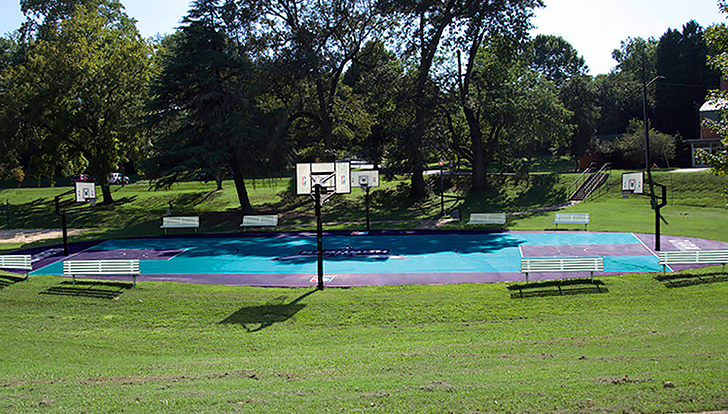 The NBA just hosted their first ribbon cutting ceremony for their new Hornet's themed parks – in partnership with Mecklenburg County and the City of Charlotte.
The entire Charlotte Hornets team, including Owner Michael Jordan, joined with Charlotte's mayor and other local officials to cut the ribbon on a fully refurbished basketball court at Latta Park.
The new court features the team colors and seating. Two other courts are scheduled to be built at Camp Greene Park and Tuckaseegee Park.
Several Hornets players and coaches then held a Junior NBA Clinic with Dilworth Elementary kids to officially break in the new court:
Sorry, kids. When you're up against a 7'2" center, you don't stand a chance 😂 #blockparty #youcantseeme https://t.co/Mb5jBOfbUB

— Charlotte Hornets (@hornets) October 18, 2016
They will also be adding new basketball goals, goal pads, benches, fountains, hornet-themed courts, and other amenities to Camp Greene Park and Tuckaseegee Park.
"We are excited to bring the Hornets Experience to these three neighborhood courts in Charlotte," said Hornets President & COO Fred Whitfield. "It is important to us to give back to the youth of our community, and we can think of no better way for them to show their love of both the Hornets and the game of basketball than by playing on Hornets-themed courts at their local parks. We also want to thank the NBA for demonstrating its continued commitment to Charlotte and Mecklenburg County by joining us in this effort."
Comments
comments