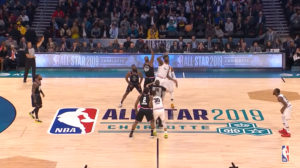 The NBA is one of the most popular sports in America, maybe in the world, and betting on the NBA betting lines is a very popular pastime for many who enjoy the sport. 
But, what is more important is the players who really make the game what it is, and there are some truly epic legends out there. 
We cannot forget one legend though, Jason Kidd, an amazing NBA player now turned coach, who left a real mark on the game as a player, and continued to do so as a coach. 
Don't get us wrong, there are plenty of legends that have come out of the NBA, but Jason Kidd really did leave a mark and come out as a total legend, with all fans of the game knowing his name. 
So, what exactly did he do to warrant the title as 'legend'? 
Who Is Jason Kidd?
Jason Kidd, is an American basketball coach, however, he is also a former player, and it was on the court that he won his status as a legend. He is the coach of the Dallas Mavericks. 
He was a point-guard in the NBA. A 10 time NBA All-Star, a 5 time All-NBA First Team member, and 9 Time All-Defensive Team member in the NBA. 
He won a championship in the NBA in 2011 with the Mavericks, and is a gold medal Olympic winner from 2000 and 2008. 
In 2021, he was inducted into the Hall of Fame and was honored as being one of the greatest all-time players and was named for the 75th anniversary team.
Before we get into why he is such as legend, let's look at where he has been
As a point-guard he played for the Dallas Mavericks (1994-1996), the Phoenix Suns (1996-2001), the New Jersey Nets (2001-2008), the Mavericks again (2008-2012, and then finished up his playing career in 2012-2013 with the New York Knicks. 
Then as a coach he has coached four teams; the Brooklyn Nets (2013-2014), the Milwaukee Bucks (2014-2018), he was the assistant coach for the Los Angeles Lakers (2019-2021), and has been coaching the Dallas Mavericks since 2021. 
He has been with many teams, but it is no surprise why, not when you consider who he was as a player.
His Epic Stats
His stats alone show much of why he was so loved as a player, he made an impact the minute he entered the NBA. 
He was named as a co-rookie of the year in the 1994 to 1995 season. He showed potential to become one of the best ever all-round point-guards in the NBA. 
He averaged that season at 11.7 points, 5.4 rebounds, and 7.7 assists per night. After this season he became probably the best passing point guard in the game, he averaged at no less than 9 assists per night for 9 seasons following. 
This meant he led the league in assists per game during this time. 
This doesn't sound so amazing until we compare his career stats to other legends, such as Michael Jordan, Bill Russell, and Magic Johnson. You see, when he retired he had recorded 15,000 points, 7,000 rebounds, and 10,000 assists. 
The only NBA player to ever score stats like these. That includes the aforementioned legends. 
Kidd was one of the best ever passing point guards in history, he is actually second ever in assists, behind by only 3,000 from John Stockton record. 
He had his downsides, his shot wasn't the best, but his stats show he really made up for it in other places.
His Ability To Win
One funny thing about Kidd is that he was almost close to joining the ranks of the best players in the NBA to never win a championship. However, he won in 2011 with the Mavericks. 
Okay, he was not the best player on that specific team, but he was a big part of their success. 
You see, every time he moved onto a new team, that team would get better. When he joined the Mavericks in his rookie season, he made them a whole 23 games better. Raising them from 13-69 to 36-46. 
With the suns, they improved by 16 games in his first year (40-42 before, 56-26 after, with the nets their improvement doubled! (26-56 before, 52-30 after).
He was not just a player, he was a team member who bettered his teams. Whenever he went to a new team, they would get better, he just radiated this energy that made his teammates better.
A Lasting Influence
Kidd left a lasting impression behind when he left the court. He continued the trend of the pass first point guard. 
However, his biggest influence has to be in how he improved the people around him. When he left, he didn't totally leave, because his influence was left in the players who got better because of him. 
And, as a coach he can continue to do this, bettering his teams as he goes from coaching team to team. Maybe that is why he became a coach, because he knew he had this super power to better the players around him. 
Comments
comments