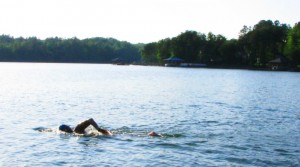 Countless Americans have faced death defending our country, but in spite of the danger of direct combat, many tragically lose their lives after combat due to post traumatic stress disorder.
A local group of Navy SEALs recently dove into the water to save their fellow soldiers.
This past week a group performed a grueling 13.1 mile swim to bring awareness to the 22 veteran suicides that take place every day, on average.
The swim raised enough funds to send Kevin Trainor, a Mooresville veteran, and 74 other local veterans to a PTSD recovery program. The five-day experience is called "Operation Restored Warrior," a proven program that has helped many veterans overcome drug addiction, depression, and suicidal thoughts.
You can find out more information by visiting their website by clicking here.
Please share;
[facebook][tweet][digg][stumble][Google]
[one_third]


[/one_third] [one_third]


[/one_third] [one_third_last]


[/one_third_last]
Comments
comments