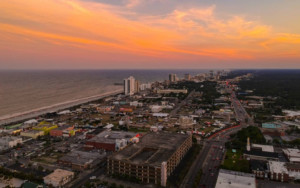 In a region known for dining—and seafood dining at that—it takes a lot to be crowned the Seafood Capital of South Carolina. For those who have been to Murrells Inlet, the title is no surprise. A stone's throw from Myrtle Beach, the former fishing village transformed into a bustling hotbed for dining with over 30 restaurants with different specialties.
Murrells "Checkered" Past
For some time, Murrells Point didn't exactly welcome visitors and was a pretty private place. We should mention this was a few centuries ago, in the 1700s, and is a far cry from the town we know today. Pirates occupied the seafood capital at that point in history, serving as a hangout and hiding spot for the ruthless bandits of the sea. Even Blackbeard, yes, that one, is reported to have spent significant time there.
Transforming the Area
Upon English settlers moving in, the region was turned into rice plantations and staffed with slaves. A combination of weather and a changing America ended this around the time of the Civil War. Following the war and emancipation of slaves, several hurricanes destroyed the fields, homes, and many aspects of these plantations. As a result, the grounds were sold off in pieces, paving the way for the development of an actual town. Making it an accessible city with  things to do laid the foundation for Murrells Inlet to become the Seafood Capital of South Carolina. 
The Seafood Capital Today
Walking through Murrells Inlet, you'll have your pick of restaurants no matter what you're in the mood for. From their famous seafood to pizza to burgers to steaks, there's a restaurant for every type of hunger.
What stands out about these restaurants and pays homage to its fishing and pirate past are the names. While some are tame, like Wahoo's Fish House, others are not. A few of our favorites (again, based on name only) are Drunken Jacks, Creek Ratz, and Dead Dog Saloon.
The summer months are the most popular, but it never clears out like some other tourist destinations. With the main attraction being food, people never seem to tire of what the town has to offer.
What Else Happens at Murrells Inlet?
At Murrells Inlet, your experience does not have to be limited to the restaurant scene. In fact, some visitors will tell you that the cuisine has become a secondary source of value thanks to the overall development of the area.
You can visit Brookgreen Gardens, sharpen your swing at the Myrtle Beach golf school, go on the MarshWalk, or simply hang out and enjoy the scenic views from the edge of the Atlantic.
Brookgreen itself is a place you can spend a full day (or two). You can explore converted plantations, investigate supernatural phenomenon's so many have reported, and finish it off looking at the 1,400 intricate sculptures on the grounds.
Comments
comments