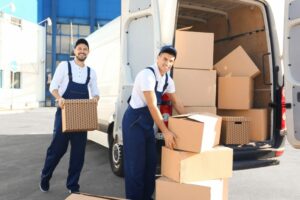 Ready for a change of scenery and a new adventure? Moving from Charlotte to California is an exciting journey that promises endless opportunities and a unique experience. From the beautiful streets of Los Angeles to the breathtaking sceneries of San Francisco Bay, California has something for everyone.

Get ready to embrace new cultures, meet new people, and explore a state famous for its diverse landscape, rich history, and innovative spirit. Your move to the Golden State is the perfect chance to start fresh and chase your dreams. So pack your bags, and let's embark on this thrilling journey together!"
Have a Plan
You've made the difficult decision to pack up and move your entire life thousands of miles away. Taking on such a massive task without planning is asking for trouble. Whether you want to go with the flow or keep track of every moving-related to-do in a spreadsheet, you should compile a list of everything you need to do about the relocation.
Don't Get Behind Schedule
Now that you have a schedule, you must keep to it. Don't wait until it's too late to take care of time-sensitive tasks like transferring utilities and enrolling kids in school. Mark off chunks of time on your calendar or set alerts on your phone to remind you to complete specific moving-related tasks at specific times.
Collect Multiple In-home Moving Quotes
Since you'll be moving for quite some time, you must find a dependable company to help you. The first step is to arrange for free, no-obligation estimates from at least three moving firms to come to your home. Estimates for moving costs should be scheduled no later than four weeks before the big day.
Get The Services of a Reputable Auto Moving Company
You can get the best value and trustworthy service if you shop around and receive estimates from several auto shipping companies. Though money is a consideration, remember that the cheapest option isn't necessarily the best. When moving from Charlotte to California, look into an auto shipping company to transport your car to your destination. 
Renew Your Driver's License and Other Official Documents
Remember to change your address and phone number wherever you have previously provided them when you move. You need to renew your registration and driver's license if that's the case. Before moving from Charlotte to California, ensure you've updated anything that needs to be updated. 
Relocation Insurance Is a Good Investment
It is essential that you understand the limits of your insurance policy. Find out in advance what your house and auto insurance plans will cover in the event of a move. Although moving companies offer a limited insurance policy, purchasing a more extensive plan is wise if you have many precious things.
Take Inventory
It is crucial to do an exhaustive inventory of your belongings before the move. Document your possessions on paper or in a digital app, but do it in a centralized area. Because of this, you won't have to second-guess whether or not your furniture and appliances made it to your new home. You can easily and quickly see what's on hand using your inventory list.
Leave the Final Touch to Professionals
It could take months to pack up your entire house, even if you utilize every moving trick in the book. Hiring expert packers is a smart idea if you are moving rapidly, work long hours, or would rather spend your free time with friends than packing. When moving from Charlotte to California, having a professional pack all your fragile items with bubble wrap and tape is very helpful.

Hire a professional auto shipping company or get some help packing if you need extra time for other things. However, this advice for a long-distance relocation can mount quickly, so be sure it fits your budget before employing extra help.

Moving from Charlotte to California can be an exciting and life-changing experience. From the bustling tech industry and diverse culture in California to the scenic natural beauty and year-round warm climate, there is much to look forward to.  Taking the time to research your new city, understand the job market, and familiarize yourself with the cost of living will help ensure a smooth transition.
Comments
comments