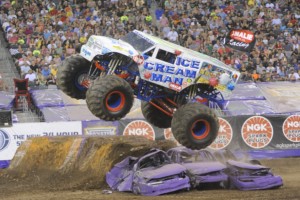 The biggest Monster Truck show in the country, Monster Jam, is coming to Charlotte this coming weekend.
They'll be taking over the Spectrum Center in Uptown (formerly the Time Warner Cable Arena) Friday and Saturday nights starting at 7pm and Saturday afternoon starting at 1pm.
Here's a little preview of what you might expect to see:
Each Monster Jam truck is approximately 10.5 feet tall, 12 feet wide, 17 feet long and weighs 10,000 pounds. A Monster Jam engine generates 1,500 horsepower, powered by methanol fuel, consumed at the rates of three gallons a minute. The truck utilizes a four-link racing suspension with four main bars that link the front and rear axles to the frame. It rides on clusters of nitrogen charged shocks that offer 30 inches of travel in the suspension.
This weekend we'll see some of the most legendary trucks and drivers performing, including; Saigon Shaker driven by Ryan Disharoon, Grave Digger driven by Pablo Huffaker, Monster Mutt driven by Kevin Crocker, Bad News Travels Fast driven by Brandon Derrow, Aftershock driven by Bob Robbins, and Krazy Train driven by Lloyd Twitchell.
Charlotte's Monster Jam will also feature pre-show Pit Parties, which will give fans the opportunity to meet the drivers and get autographs or pictures.
For more information or for tickets click here.
Comments
comments