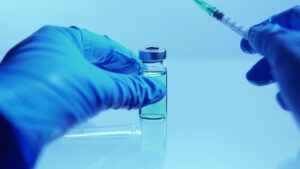 The North Carolina Department of Health and Human Services has just announced that the first batch of Monkeypox Vaccines are available in select counties, including; Buncombe, Durham, Forsyth, Mecklenburg, New Hanover, Pitt and Wake.
According to their press release, "the federal government has allocated North Carolina 444 doses of Jynneos, a vaccine that can prevent illness or lead to less severe symptoms if given within two weeks after someone is exposed to monkeypox."
Due to the currently limited supply, NCDHHS is urging residents to only seek a vaccine if; you have been in close physical contact with someone with monkeypox, or if you "had multiple or anonymous sex partners in the last 14 days in either a venue where monkeypox was present".
The federal government has allocated North Carolina 444 doses of a vaccine for people exposed to monkeypox. Because of limited supply, vaccination is currently only being offered to individuals with known or suspected exposure to monkeypox. Learn more: pic.twitter.com/IcwvrK0tcP

— NCDHHS (@ncdhhs) July 7, 2022
The CDC notes that "ACAM200 and JYNNEOSTM (also known as Imvamune or Imvanex) are the two currently licensed vaccines in the United States to prevent smallpox."
Monkeypox infections normally occur through contact with the skin lesions or bodily fluids of infected animals or humans – including respiratory droplets – or through contact with materials that have been contaminated with the virus.
Symptoms of the virus include fever, chills, rash and aches, before worsening lesions develop.
Comments
comments