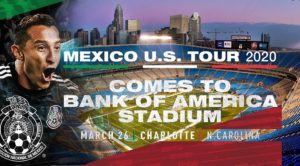 The Federación Mexicana de Fútbol (FMF) and Soccer United Marketing (SUM) announced the 2020 #MexTour will kick off on Thursday, March 26 in Charlotte.
The Mexican National Team will kick off the massive tour at the Bank of America Stadium as they face off against the Czech Republic.
The Queen City last hosted the Mexican National Team last June when they defeated Martinique 3-2 in a first round Gold Cup match.
According to Bank of America officials, there were over 60,000 fans in attendance that day.
Tickets are now available for the March 26th game at the Bank of America Stadium here on Stubhub.com.
Comments
comments