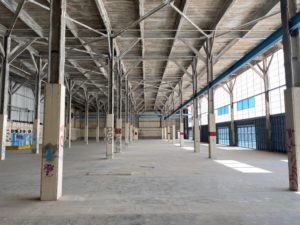 Merino Mill and the nonprofit LaunchLKN have joined forces to open Mooresville's first co-working space, MillWorks.
Opening this summer, MillWorks will offer about 50 private offices, conference space, a community work area, and a podcast studio. An attractive, light-filled wellness room will be a place to take a break and meet other entrepreneurs.  Expect high ceilings, huge windows, a café kitchen for enjoying a coffee or snack, and an experience designed to be as comfortable as a home, all set in 60,000 square feet. The private offices will range from 500 to 1,500 square feet.
Users may rent space by the month or year. Daily passes will also be available. Podcasters may rent the studio by the hour.
In this joint venture, Merino Mill will provide upfitting of the space, including design and furniture, while LaunchLKN will provide programming. "I've always wanted to have an entrepreneurial center at the Mill," says Michal Bay, founder and developer of Merino Mill. "It's been a dream for a long time. We hope people will create and develop businesses here that lead to good jobs in Mooresville and Lake Norman."
MillWorks will be a hub for lectures and events for entrepreneurs. New entrepreneurs who are part of LaunchLKN's Startup Generator program will have access to MillWorks space while they are enrolled in Startup Generator.
MillWorks will also host classes on entrepreneurism for students from both Mitchell Community College and Davidson College. Students can study the growth of successful businesses at the Mill and may be able to apply for internships with them.
"We were really inspired by what Michal Bay has done at the Mill," says Rhana Kurdi, executive director of LaunchLKN. "LaunchLKN will provide entrepreneurship education and opportunities to the entire Lake Norman community, with MillWorks serving as a key location for aspiring entrepreneurs and existing businesses to gather and share ideas. We're excited about all the possibilities for creativity, innovation and connection."
LaunchLKN is a collaborative community of entrepreneurs, mentors, educators, and community leaders dedicated to sharing knowledge and motivating growth of the technology-based startup scene in Lake Norman. LaunchLKN is one of the leaders behind The Hurt Hub@Davidson.
Merino Mill is home to a variety of companies and small businesses. Restaurants on site are Aliño Pizzeria and The Barcelona Burger & Beer Garden. Defined Coffee will open at the Mill soon.
MillWorks will open this summer and is leasing now. Contact info@launchlkn.org for details.
Comments
comments