Mecklenburg County health officials have just announced there are now 77 confirmed cases of COVID-19 in our county.
They announced the new number this morning along with additional closure instructions for all gyms and fitness centers "regardless of the # of occupants".
This morning there are 77 positive COVID-19 cases in Mecklenburg County.

Gyms & fitness centers were required to close this week. The order applies to all facilities in the County regardless of the # of occupants. This is critical to the health & safety of our residents. pic.twitter.com/rVxWhm09KB

— Mecklenburg County (@MeckCounty) March 21, 2020
The fact that the number of cases has nearly doubled from yesterday's total of 43 sets a dangerous growth curve for potential future numbers.
While additional closures of restaurants, gyms, and public events will hopefully flatten the curve, there is still the potential that we could be seeing drastically higher numbers in the coming weeks.
We applied a simple growth curve formula to the number of COVID-19 cases from this past week in Mecklenburg County, and what the computer spit out was a staggering figure of over 8,000 potential cases by the end of the month.
The projected numbers in the above chart are not very far off from the numbers we have been seeing in New York.
A similar growth curve can be seen when comparing the reported number of COVID-19 cases in New York between March 2nd – March 21st to the reported number (and our projected number) of cases in Mecklenburg County between March 12th – March 31st.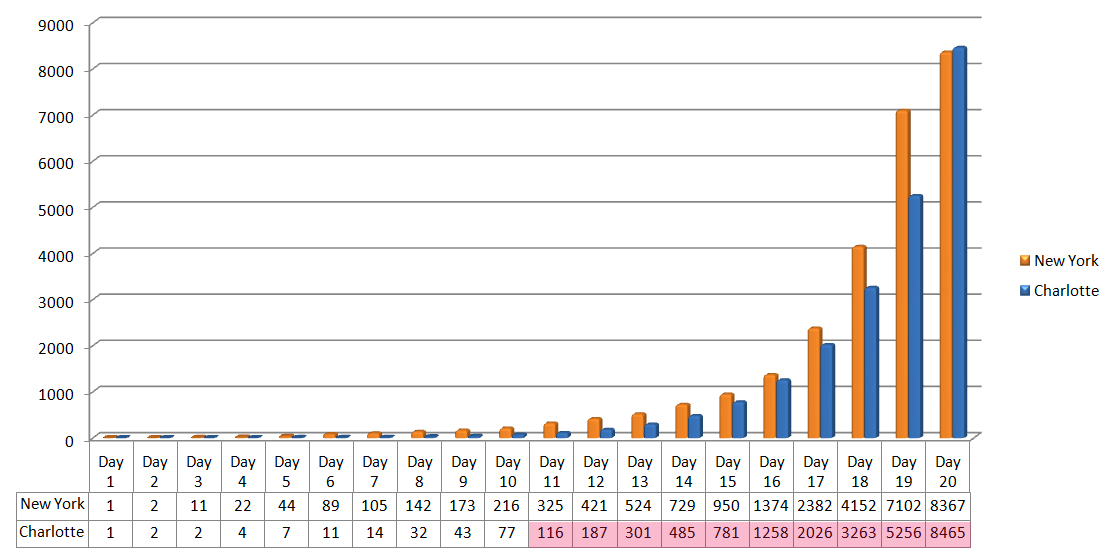 While there is absolutely no way to predict the future, most experts do agree that the number of COVID-19 cases here in Mecklenburg County and around the country will continue to increase for at least the next few weeks.
It's now more important than ever to follow the recommended guidelines by our health department, including:
Washing hands with soap and water for at least 20 seconds. Use an alcohol-based hand sanitizer if soap and water are not available.
Cover your mouth and nose with a tissue or your sleeve (not your hands) when coughing or sneezing.
Avoid touching your eyes, nose or mouth with unwashed hands.
Avoid close contact with people who are sick.
Stay home when you are sick.
Get a flu shot, it's not too late. During this time of year, respiratory illnesses in North Carolina are often caused by infection with influenza or viruses that cause the common cold.
Also remember that Mecklenburg County has approved an Order Prohibiting Mass Gatherings (effective March 16, 2020) and they have developed teleworking plans (effective March 18, 2020) to empower employees to continue to perform essential functions and business operations while ensuring the health and safety of employees, meaning that some facilities and services will be operating on reduced schedules.
In addition to actions taken by Mecklenburg County, the state of North Carolina has now closed all Restaurants and Bars for Dine-in Service and they've also closed all Public Schools K-12, beginning March 16 for at least two weeks.
Comments
comments