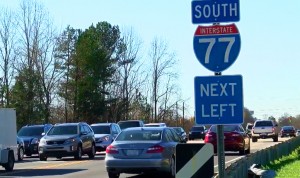 This past Monday night, Mecklenburg County Commissioners voted 8-1 against the new I-77 toll lanes, which is in line with what the public outcries have been saying (which is reflected on our recent toll lane petition).
The contested toll lanes are currently under construction, and are currently projected to cost over $650 million, but there is still time for North Carolina to back out on the deal.
The Spanish company named Cintra is currently financing the deal – if NC decided to back out on their 50-year contract, state auditors project that it will cost anywhere from $82 to $300 million.
This past Monday's vote by the county commissioners will force the Charlotte City Council to hold a public hearing on the I-77 toll lanes next week. Following the public hearing the council will vote on how to direct it's members of the CRTPO to vote on the toll plan.
The final CRTPO vote will take place on January 20, and if they vote no, the project will be dead.
Please share;
[one_third]


[/one_third] [one_third]


[/one_third] [one_third_last]


[/one_third_last]
Comments
comments