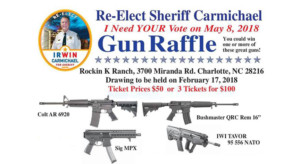 After one of the most tragic school shootings in American history, Mecklenburg County's Sheriff has decided to cancel what many considered to be a controversial fundraising campaign.
Sheriff Carmichael had planned to host a 'gun raffle' on February 18th, during which he would sell tickets for $50 each to raffle off 4 assault weapons, 8 pistols, and 3 hunting rifles.
This past Friday, he released a statement, saying that he would be canceling the fundraising event in light of the tragedy in Florida;
The statement from Sheriff Carmichael reads;
"My heartfelt condolences go out to the victims and families of the shooting at Marjory Stoneman Douglas High School in Parkland, Florida. In the wake of this tragedy, I am cancelling Saturday's gun raffle event and all raffle tickets purchased will be refunded. As the elected Sheriff, I fully understand the difference between responsible gun ownership and senseless gun violence and holding a gun raffle would not serve to advance the values close to my heart or the principles of my Office."
Reporter Kirstin Garriss recently interview Sheriff Carmichael – when asked about his gun raffle, he said, "a lot of folks that support me, support the second amendment…"
What are your thoughts on the gun raffle? 
Comments
comments