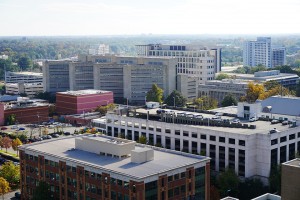 With Mecklenburg County now reporting 14 confirmed COVID-19 cases, an increasing number of measures are being taken to attempt to slow the spread.
One of the more controversial ones is reducing the inmate population in our uptown jail.
The jail is at a heightened risk of a COVID-19 outbreak due to its smaller size and frequency of inmate flow. Currently there are about 100 people who are brought in and released each day.
So far, the jail has released at least 80 people early due to COVID-19 fears.
Yesterday, Mecklenburg District Attorney Spencer Merriweather sent out the following statement about the early release program:

"In light of reduced court operations due to COVID-19, judges have proven willing to entertain reassessment of pretrial confinement decisions, as appropriate. We have and will continue to be intentional about balancing due process and health concerns for defendants with the priority of maintaining public safety during an especially trying time for our community. As both the detention center and the entire community will be under increased strain, my office will continue to work diligently to ensure that people in pretrial custody are the people who need to be – no more, no less."
Some in our city feel that even more needs to be done. There is now an online petition calling for an even greater release of inmates from the Mecklenburg County Jail:
Good morning! Please consider signing the petition prevent the spread of COVID 19 by releasing certain people from the Mecklenburg County Jail. It was reported from the county yesterday that the jail does not have the ability to isolate sick inmates. https://t.co/rPu0YdGkRZ

— Chrissie Nelson Rotko (@chrissie_beth) March 19, 2020
What do you think about the early release program?
Do you think more inmates should be released early?
Comments
comments