Charlotte is about to have its 7th new mayor in just 8 years.
Incumbent Mayor Jennifer Roberts Just conceded the election to Mayor Pro Tem Vi Lyles last night at her watch party at the Peculiar Rabbit.
Mayor Roberts said that she called Vi Lyles to express her support for the new Democratic candidate.
Roberts says she called Vi Lyles to express her support for her and keeping a democrat in office @wcnc pic.twitter.com/wY30CWX8pe

— Savannah Levins (@LevinsReports) September 13, 2017
With Charlotte's 168 precincts reported results, Democratic Lyles defeated Roberts by nearly 3,400 votes, 15,773 to 12,375.
Republican City Councilmemeber Kenny Smith defeated Gary Dunn with over 89% of the votes.
Here are the unofficial results from Charlotte's mayoral primary (official numbers are still pending);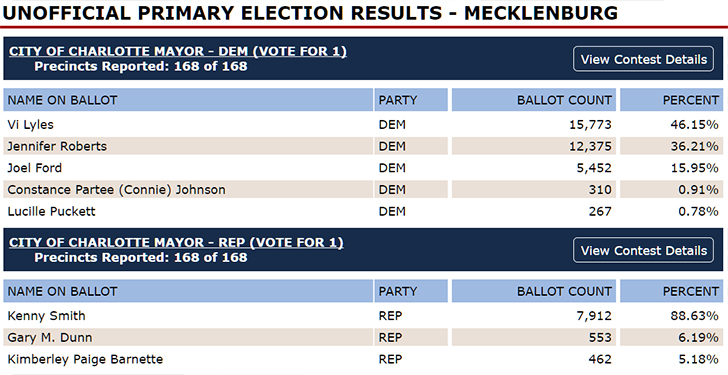 Click here to see the unofficial results of the city council primaries.
Vi Lyles will now face off against Kenny Smith in Charlotte's Mayor Election on Tuesday, November 7, 2017.
What do you think about yesterday's primary results? 
Comments
comments