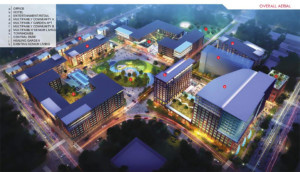 A developer out of Boston, Fallon Co., recently announced plans to build a new $330 million mixed-use project in Dilworth, just outside of Uptown Charlotte.
The current plans call for 20 townhouses, 57,000 sq. ft. of retail, a 330,000 sq. ft. of office space, a 180-room hotel, and 725 mixed-income apartments (145 will be low income).
It will be built at the corner of Rensselaer Ave. and South Blvd. around the senior community of Strawn Tower (which will remain in place) at 1225 South Caldwell Street:
Construction is now set to start on phase 1 of the project later this year, which will include 160 of the apartments and the hotel.
What do you think about the new development? 
Comments
comments