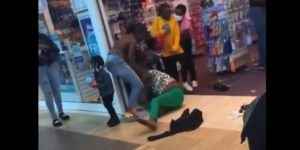 This past weekend, a large brawl was captured on video after several shoppers started fighting over some perceived insults.
The incident occurred just outside of Claire's in the Northlake Mall on Saturday afternoon.
After several minutes of fighting, 2 off-duty CMPD officers got involved to break things up.
Here is a video of the aftermath of the incident (you can watch the video of the fight here on Facebook).
At this time, no arrests have been made, but police are currently searching for one person.
Comments
comments