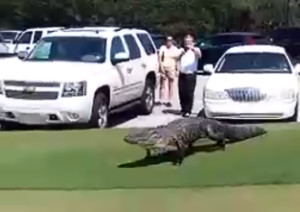 Several golfers in North Carolina got an incredible surprise this week while out for a casual game of golf.
On Wednesday morning, an estimated 12 foot long gator was spotted walking across the parking lot and putting practice area of the Oak Island Golf Club.
The golf club, which is located just south of Wilmington, posted a video to their Facebook page yesterday morning. It shows shows the creature walking from the parking lot to the putting practice area without taking any apparent notice of the crowd and armature videographers.
Alligators are becoming an increasingly common site around golf courses and man-made canals as much of their natural habitats are being lost to new construction around the Carolinas.
Comments
comments