Marriott is now planning to build a trendy new 'party hotel' in the center of Charlotte.
Their new Moxy brand is focused on attracting younger party crowds with massive flat screen tvs, multiple 24/7 bars, DJs on staff, and tons of other 'party-focused' amenities.
Jelly Tree stayed at a @MoxyHotels in NYC this week. Here's a look at the new Moxy headed to #Uptown #Charlotte #crowntown pic.twitter.com/sNagWlXma4

— JellyTreeProperties (@JellyTreeCLT) June 16, 2018
According to the hotel's website, "Moxy Hotels makes that easy with the heart of a boutique hotel and an appetite for adventure. There's a drink waiting for you with your room key and someone at the bar that wants your number. Moxy is for play… Jenga, karaoke, maybe a little game of spin the bottle? Here, you can get away with it…"
Here's their promo video for what you can expect when you stay at Moxy;
The Marriott's new Charlotte Moxy Party Hotel will include;
A total of 200 rooms
A massive rooftop bar
A pool, fitness center, and garden terrace on the 6th floor
Up to 7,000 sqft of retail on the bottom level
Street-level parking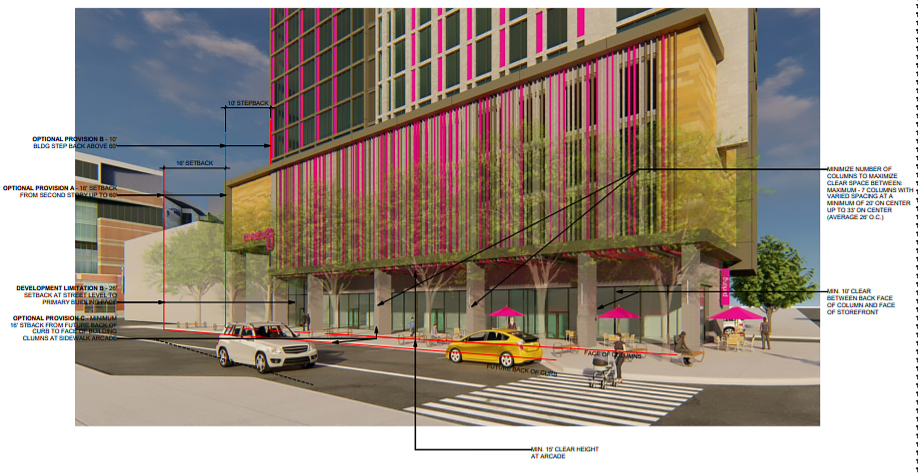 It's slated to be built at the corner of at the corner of Brevard and 4th Street;
On an Urban Planet thread about the building several people noted that they appreciated the fact that the building won't take up the entire block;
"I'll take it, makes the historic buildings on the corner of Trade much harder to remove and redevelop." – ricky_davis_fan_21
"GOOD! I hate seeing single buildings that aren't of a significant height consume entire blocks. I hate surface lots as much as everyone else, but I'd rather see a surface lot remain with potential for future development than see a small building spread its legs around an entire block." – Hunted
"I hate "superblock" style developments, especially when they're unnecessary, this hotel doesn't need to take an entire block, and it's not going to. It opens up room for variety. Another good example of a well-diversified block would be the block containing 300 South Tryon and the Latta Arcade. You have bars and restaurants, specialty shops, boutique office space, a 5 star hotel, conference rooms, Class A (or AA?) office space, a parking garage (boo) and the chamber of commerce, which I believe also has office space upstairs." – nakers2
The final rezoning plans for the new Moxy Hotel will be voted on this coming September – if approved, the plan is to host a grand opening in early 2022.
What do you think about the new 'party hotel' plans in the center of Charlotte?
Comments
comments