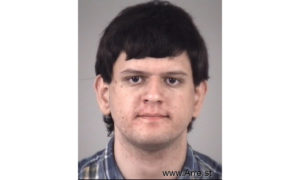 A man has been arrested in North Carolina on a slew of illegal weapons charges, child pornography, and a plot to kill presidential candidate Joe Biden.
19-year-old Alexander H. Treisman (aka Alexander S. Theiss) was arrested in Kannapolis after his van was found outside a bank with a can of Tannerite (highly explosive material), a 5.56 Sig AR15 rifle, a 9mm Intratec Luger pistol, a 9mm Kel-Tec Sub-2000 pistol, a .22 ArchAngel rifle, a 7.62×54 Russian Mosin Nagant M91/3 rifle, a spare Lower AR receiver, a box of 5.56 ammo, $509,000 in cash, books about bomb-making and improvised weapons, and drawings of swastikas and planes crashing into buildings, according to court documents.
Upon further investigation, officers found that many of the weapons found in the van were purchased illegally and trafficked across state lines. On his computer, investigators found child pornography and a potential plot to assassinate former vice president Joe Biden.
Agents learned that Treisman had traveled to a Wendy's a couple of miles from Joe Biden's home and there wrote a checklist that ended with the word "execute". Treisman also posted a picture on the website iFunny that includes the caption, "should I kill joe biden?"
According to the court documents, agents searched a total of 8 of Treisman's electronic devices, and discovered, among other things:
Plans on his cell phone that described a mass shooting to be performed on Black Friday or Christmas
Images from the Christchurch mass shooting
A social media post made by Treisman referencing raping children and child porn
A social media post made by Treisman stating he was "going to do a columbine for a while, [but] I think it would better to put it towards something more memorable";
An electronic document entitled "A Guide to Mass Shooting".
An image of an altered Polish passport with Treisman's face edited onto it.
Treisman is currently being detained in federal custody ahead of an upcoming trial. He was denied bail due to being a flight risk and a danger to the community.
Comments
comments