UPDATE 3/18/2021 11:30am:
The severe storm is continuing to barrel toward the Charlotte region.
We should see the worst of the storm between 1-4pm this afternoon, depending on what part of the Charlotte region you live in.
According to the National Weather Service, the storm will likely be the worst just north of the warm from along the I-85 corridor.
9:35am CDT #SPC_MD 0221 , #ncwx #scwx #gawx, https://t.co/L1zCHUbfdP pic.twitter.com/voMGSKwAo7

— NWS Storm Prediction Center (@NWSSPC) March 18, 2021
Original Article 3/17/2021 11:00am: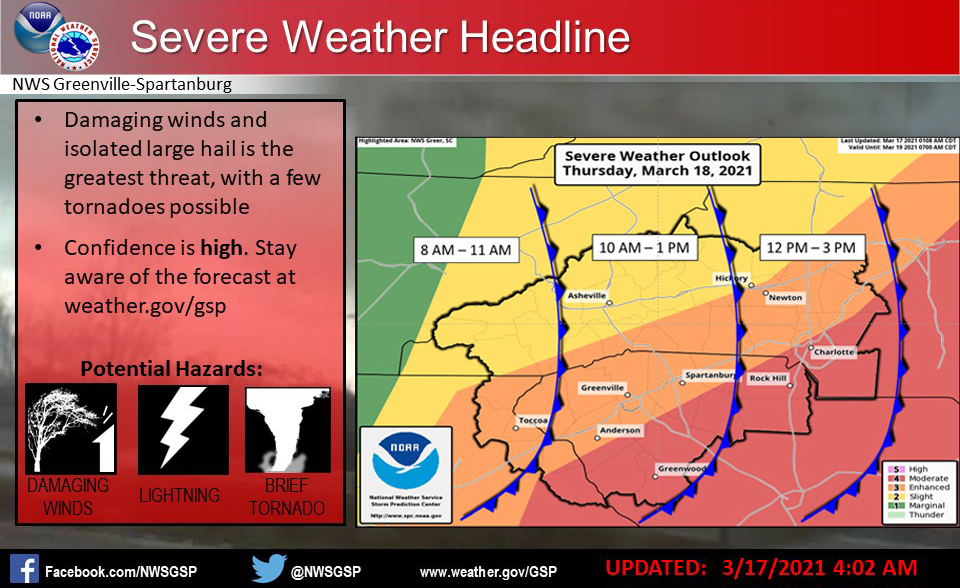 Charlotte is about to witness its first major storm of the season – a storm that will potentially create numerous tornadoes throughout our area.
This morning the National Weather Service sent out the following warning for the Charlotte region, including Iredell, Catawba, Rowan, Cleveland, Lincoln, Gaston, Mecklenburg, Cabarrus, and Union counties:

Heavy showers and thunderstorms are likely to occur on Thursday. A
few of these storms may become severe, producing damaging wind
gusts, hail and a few tornadoes. The greatest threat for severe
weather will likely occur in the foothills and piedmont.
They also urged all residents of the Piedmont to familiarize themselves with the storm warning system in light of tomorrow's storm:
This Thursday marks the season's first potential severe weather event. With the Upstate and Piedmont in an enhanced risk zone, and the mountains in a slight risk, it's time to consider impacts. For this system, the biggest threats will be wind and lightning. #ncwx #scwx #gawx pic.twitter.com/VyDMcULJkD

— NWS GSP (@NWSGSP) March 16, 2021
This morning, they posted additional information about the storm's path and severity:
SEVERE WEATHER UPDATE: It's likely severe weather will impact the area on Thursday. The main threats will be damaging winds, large hail, and a few tornadoes. We urge everyone to have a plan in place, multiple ways to receive warnings, and a place for shelter. #scwx #ncwx #gawx pic.twitter.com/faOkemvC6l

— NWS GSP (@NWSGSP) March 17, 2021
We will update this article as the storm develops.
Comments
comments