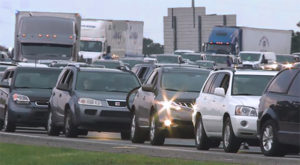 In less than a month, commuters from Fort Mill to Charlotte will experience significantly increased commute times while the SC Department of Transportation closes and replaces all 4 southbound lanes on the I-77 Catawba River Bridge.
According to a press release from SCDOT, the bridge is overdue for a replacement after an increasing frequency of needed repairs.
"Built-in the 1970s, the I-77 southbound bridge deck over the Catawba River has shown clear signs of deterioration and has required many repairs during the past decade, often taking several days and impacting traffic. A SCDOT contractor will be able to replace the concrete bridge deck as a more permanent solution by closing traffic for 17 days."
The bridge's 4 southbound lanes will close for the majority of May while they are replaced.
The Interstate 77 southbound bridge over the Catawba River in York County is scheduled to be closed for extensive, around-the-clock repairs beginning 9 p.m. May 6, 2021, and ending at 5 a.m. May 24, 2021, barring delays due to weather or unforeseen circumstances.

— SCDOT (@SCDOTPress) April 1, 2021
SCDOT also notes that:
Both northbound and southbound traffic along this section of I-77 will be reduced from 4 lanes to 2 lanes to maintain traffic flow in both directions along this northbound side of the interstate. Temporary concrete barriers will be in place to separate southbound and northbound traffic.
Northbound traffic will be shifted to the two, far right lanes and use the east half of the northbound bridge to cross the Catawba River.
Southbound traffic will cross over the median and use the two lanes on the west half of the northbound interstate to cross the Catawba River. Once past the work zone, the southbound traffic will cross over the median and back to the southbound interstate highway travel lanes as normal.
In addition, the following I-77 ramps will also be closed during construction:
•           Southbound I-77 on-ramp from Sutton Road
•           Northbound I-77 on-ramp from Cherry Road
•           Both Northbound I-77 on-ramps from Celanese Road
•           Northbound I-77 on-ramp from the Collector/Distributor along Exit 82
Comments
comments