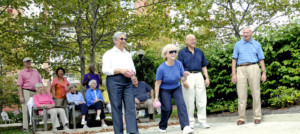 No Youngsters, Please. 
We keep thinking that life begins at 20 or around that age. Those are the years when we have enough time and energy (or sometimes not) to study and enjoy our life. In reality, the 20s are years when we try to learn how to sustain ourselves, how to overcome life difficulties, and become a good professional. It turns out that real and calm life truly begins at 55. That is the age when parents usually let their kids start their own life and have the opportunity to finally invest their money only in themselves. That is why 55+ can become the turning point of your life when you can surely decide to change it for the better. You can finally allow yourself the comfort and the rest you have deserved by working hard for many years. 
Senior Retirement Communities
Of course, by turning 55, a lot of opportunities and options for organizing your life will present themselves. You may need to study how your peers and friends live to find out what suits you best. You can think of many crazy things that you can finally do as you have both time and money. We advise you to think about making quality changes and mastering a new way of living in a very different yet interesting setting. As you are already an accomplished adult, we are sure it would be interesting for you to spend time with like-minded folks. This type of company would make sure that you are welcomed, but would also suit the requirements that your age poses. By choosing to live in senior retirement communities, you will give yourself a chance to discover big-hearted people and exciting activities. 
Independent Living 
One of the advantages that this type of lifestyle offers is the opportunity to choose the kind of community you would like to live in. The first option you can consider is living independently. This means that you will be living on your own, and the staff of the facility will only interact with you to create the necessary conditions for a comfortable stay. You will take care of yourself without any help but still have a chance to participate in all the activities that your community will implement. Independent living is a wonderful option for those who want to start a new life away from their family and do not need any assistance in everyday activities. 
Assisted Living 
In contrast to the first option, assisted living provides some adults with the opportunity to live with seniors even if they require help. Usually, the adults that need this type of housing want to have someone assisting them daily. The staff in these facilities is specially trained to help the adults with tasks like bathing, grooming, transportation, eating, etc. You can also find organizations that offer help to take medicine or that provide targeted care for a specific diagnosis, such as memory loss. 
How to Organize This Wonderful Experience? 
If you are reading this article and you live near Corvallis, OR, or have the opportunity to relocate there, then congratulations. Willamette Oaks, located in Eugene, would be the perfect place for you to explore the two options of living and choose the best one for you. The facility itself and the staff are prepared to ensure that you will get the most out of your separate-living experience. Just remember how long you have worked to live a restful and joyful life until you reached 55. The right time has come to allow yourself the conditions, the companionship, and the treatment that you have earned. 
Comments
comments