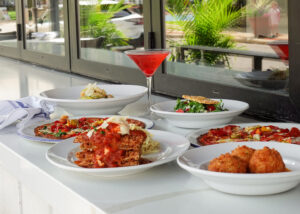 Leo's Italian Social has announced the opening of its Charlotte location in Piedmont Town Center. This is the restaurant's first location in North Carolina with two additional locations in Asheville and Cary planned for a late 2022 opening.
Situated in Piedmont Town Center at 4720 Piedmont Row Drive, the 5,000 square foot restaurant offers indoor seating for up to 200 guests and al fresco dining for around 70 on a large open  air patio.
"The story of this restaurant is tied to the story of its community – refreshed, revitalized and bursting with  energy," said Bret Adams, Founder. "From the view of pizzas cooking in the open kitchen to the large bar that  weaves throughout the dining room into the patio, guests will experience food and community in a new way  when they share in all that Leo's offers," said Adams.
View this post on Instagram
The menu features made-from-scratch dishes including pastas, pizzas, baked  bread, and house made desserts. The lunch menu will feature a duo plate options including salads, pizzas, sandwiches, and pasta.
Additional offerings include half price wine bottles every Wednesday, $8 martinis and live music every  Thursday, and brunch on Saturdays and Sundays until 3pm. Social Hours, 7 days a week from 3pm-6pm  featuring $3 off appetizers and pizzas have been voted the best by readership of Cleveland Magazine two  years in a row. The restaurant will also offer kids eat free Mondays and family style pans to go for off-site  special events and business occasions. Reservations are recommended for everyday dining and large events  in the private dining room.
"The concept for our seasonally northern Italian-influenced flavors is very much related to family and friends.  We would like our guests to be able to dine and celebrate with their loved ones and provide them with the  best possible options for food they know and love," explained Adams.
Comments
comments