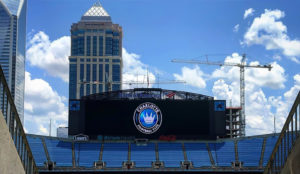 6-time premier league champions Chelsea Football Club has just announced plans to cross the pond to take on the newly minted Charlotte Football Club at Bank of America Stadium.
London-based Chelsea FC is one of the most successful European teams in the 21st Century, having won every major football competition they've played in.
"Charlotte is a soccer city and to host Chelsea FC, one of the biggest clubs in the world, for an international friendly this summer is an incredible opportunity to showcase our region as a soccer hotbed. We've always said we wanted to bring the best talent and teams around the globe to Bank of America Stadium and this delivers on that promise," said Charlotte FC President Joe LaBue in a press release. "It is also an excellent opportunity for our players to play against the top competition in the world, and to continue to showcase our Club on a global stage."
Welcome The Blues to the Queen City 👑

We will be hosting six-time English Champions @ChelseaFC for a friendly!#ForTheCrown | @FC_serieshttps://t.co/ujpXgUNWDx

— Charlotte FC (@CharlotteFC) May 18, 2022
The game will be played on July 20 with a7:30pm start time.
Tickets will go on sale next Wednesday on the FC Series website here.
Comments
comments