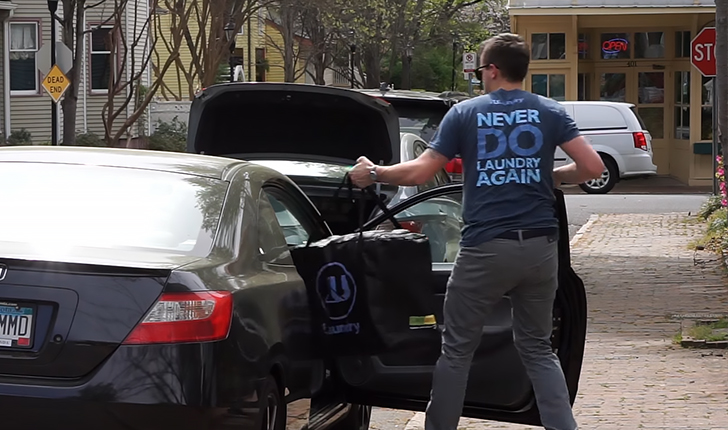 As most of America is easing out of COVID-19 lockdown restrictions, we're all just trying to return to normal life and get on with our lives. Businesses, especially, are happily reopening their services and hoping that local customers will support them on the road to recovery after the coronavirus has wreaked havoc on the economy and the community. One place, in particular, is back in full swing and is assuring Charlotte customers that now's the time to use their services once again, and that's The Laundry Room located on 901 E Arrowood Road, 28217.
The business, which is housed in a former McDonald's building, doesn't look like a regular laundromat. This is no small, dirty, and depressing place to do your laundry, but instead a bright, large, and fun area with entertainment options. Apart from the high-quality Electrolux laundry equipment and comfortable seating zones, you've also got large-screen TVs, free WiFi, food trucks, children's play area and even free parking. While you're free to bring your own favorite type of laundry detergent, The Laundry Room also has some options available if you forget.
The company recently released a small update on their website about how things will function after the COVID-19 pandemic. The Laundry Room states that they are "taking every measure to keep our customers and employees safe during these trying times. We are maintaining our normal business hours of 7am-11pm 7 days a week." The business has also asked customers to wear a mask in the store, although they can also provide you with one for free. The TVs and games will be turned on for some entertainment as well.
It's recommended that you stay in your car or outside the store while your laundry is being washed, but the drop-off wash, dry, and fold service is available for a fee if you have other chores to run (only offered on weekdays). "We know laundry is a necessity, and we want to make sure you can complete it in a clean and sanitary environment with your health in mind," wrote The Laundry Room.
So, no matter which Charlotte neighborhood you're living in, support local businesses like The Laundry Room and help the economy get back on track after the pandemic. It's also worth stating that the business has a pick-up and drop off service called 2Ulaundry if you can't make it to their location during the day.
Comments
comments