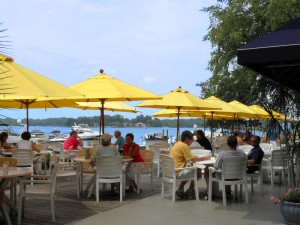 As COVID-19 continues to impact the global economy and the everyday lives of citizens, the Lake Norman restaurant community has rallied with many restaurants remaining open to serve take-out and delivery to residents amid the crisis.
NC Governor Roy Cooper issued the executive order for all bars and restaurants to close their dining rooms indefinitely beginning this past Tuesday night at 5pm.  Restaurants are still allowed to serve take-out and delivery to customers.
As the executive order was being announced, Visit Lake Norman personally reached out to all 157 restaurants located within the three towns of Cornelius, Davidson and Huntersville to compile a list of all the restaurants that remain open.  The listing includes updated operating hours and whether take-out, delivery and any specials are offered.  The daily updated list can be found on all Visit Lake Norman's social media outlets and website at the link below.
https://assets.simpleviewinc.com/simpleview/image/upload/v1/clients/lakenorman/Lake_Norman_Restaurant_COVID_19_Updates_as_of_March_17_2020_633c5967-a8dc-418c-87ff-7aead9420333.pdf
125 of the 157 restaurants remain open along with 12 of the 16 Lake Norman area breweries/beer and wine shops.  Many of the restaurants are even offering personal delivery to residents, in addition to 3rd party delivery services like UberEats, DoorDash, Postmates, etc…  Additionally, many restaurants are offering discounts of up to 15% off for curbside take-out and some are even offering wholesale items for purchase like eggs.
As so many restaurant staff rely heavily on tips, generous tips are encouraged as the restaurant industry begins to cope with the impact of the pandemic.
Comments
comments