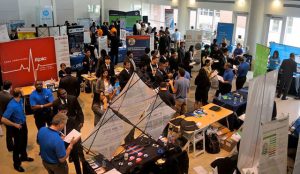 The Knight Foundation just announced $1.2 million in new grants to support innovative projects that aim to advance economic mobility and build a more equitable and inclusive Charlotte.
During the COVID-19 pandemic, Charlotte's population and economy continued to grow, but the city's prosperity was not equitable. Knight's investment supports digital infrastructure and engagement projects that put residents at the center of decision-making in their communities.
Here are more details on the 8 grantees and their initiatives:
Foundation for the Carolinas ($458K): To support digital literacy efforts for students and parents in Charlotte-Mecklenburg County's Central District 1.
City of Charlotte, Smart City Fellow ($245K): To support a Smart City Fellow for the City of Charlotte who will lead strategies to bridge the city's digital divide.
University of North Carolina Charlotte, Immersive Visual Data ($240K): To develop a digital platform that uses visual data to put residents at the center of the decision-making process in the Charlotte Future 2040 Comprehensive Plan.
Johnson C. Smith University ($75K): To help the university's library create a proof of concept for "A Virtual Sense of Place," a web-based augmented reality exhibit that tells the story of development in the Historic West End.
City of Charlotte, North End Smart District ($60K): To create a phone application that will enhance the visitor experience at the Urban Arboretum Trail.
North End Community Coalition ($50K): To support the development of programming and hiring of a community manager at the North End Smart District Tech Center.
University of North Carolina Charlotte, Virtual Neighborhood Walk ($48K): To develop virtual walking tours around historic neighborhoods in the City of Charlotte.
Queens University of Charlotte ($44K): To help the Knight School of Communication's Digital Charlotte program with advancing digital inclusion in the North End Smart District.
What do you think about the new grants?
Comments
comments