Kentucky Fried Chicken®, known for bringing authentic regional flavors to kitchen tables nationwide, will begin testing its newest product, KFC Chicken and Waffles, in North Carolina. From June 18-July 29, 2018, participating KFC locations will delight consumers in Charlotte and Asheville, NC with the ultimate Southern staple. The limited time offering includes a mouthwatering pairing of traditional Belgium liege-style waffles alongside KFC's famous Extra Crispy fried chicken for a sweet, crispy delightful indulgence.
KFC's Chicken and Waffles include authentic Belgium liege-style waffles made with pearl sugar imported directly from Belgium. Each waffle is made to order and topped with KFC's famous Extra Crispy fried chicken, double breaded and open fried to create its signature, extra crispy crunch. The southern favorite comes with a side of syrup to harmonize this sweet and savory pairing.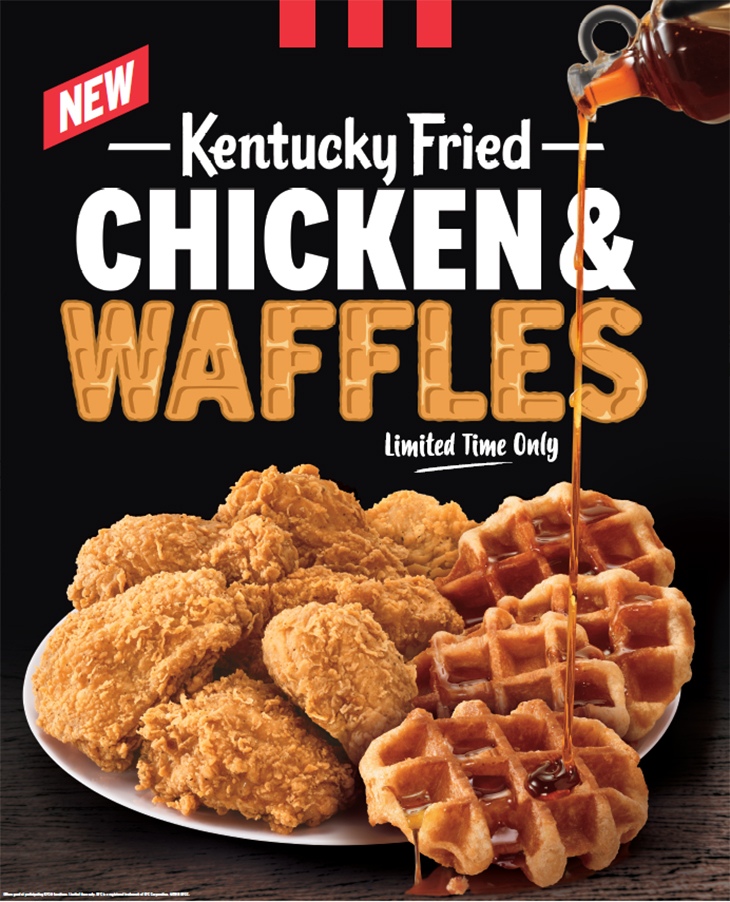 Chicken and Waffles are a growing food trend. In fact, according to a recent AskSuzy (CrowdTap) Survey, more than half of Millennials have had Chicken and Waffles in the past six months. KFC, always in search for new ways to celebrate Southern-inspired flavor combinations, recognizes that Chicken and Waffles creates a unique opportunity to make this authentic regional dish accessible to the masses.
"We know that chicken and waffles has a cult following across the country, especially in the south, but not everyone has it available close by," said Mike Wesley, KFC U.S. Senior Marketing Director. "We are always looking to add new menu items and Chicken and Waffles is perfect for our next test market product. We're excited to hear what North Carolinian taste buds have to say."
Following the release of KFC's Southern-inspired flavors Nashville Hot, Georgia Gold Honey Mustard BBQ and Smoky Mountain BBQ, KFC's Chicken and Waffles limited time offering comes in a variety of options, including a $5 (tax extra) 2-piece basket, which comes with a choice of drum and thigh or two Extra Crispy tenders. Customers can also add a side to any meal for an additional $1 (tax extra).
With original flavors such as spicy, smoky, crispy Nashville Hot, Smoky Mountain BBQ and Georgia Gold honey mustard BBQ, KFC continues to bring Southern-inspired regional flavors to restaurants and homes across the country.
Comments
comments