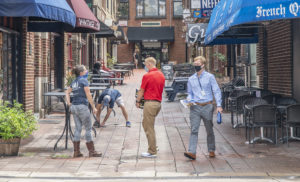 Superior Court Judge G. Bryan Collins has ruled that the North Carolina Department of Labor (NCDOL) must now implement rules that will protect workers from contracting COVID-19. The ruling punctuates a 10-month effort by civil rights groups to have COVID-19 workplace safety standards in place.
In October 2020, the Lawyers' Committee for Civil Rights Under Law, North Carolina Justice Center and Southern Poverty Law Center, petitioned NCDOL to issue COVID-19 workplace standards and had their petition denied.
Following the denial, the groups filed suit, claiming NCDOL wrongfully denied their petition on both procedural and factual grounds. The civil rights groups noted in the lawsuit that, by the state's own admission, there is a higher chance of workers' exposure to COVID-19 in certain occupational settings.
Judge Collins found that NCDOL's outright refusal to consider the rulemaking petition that would require COVID-19 workplace standards, such as masks and social distancing, violated the state's own rulemaking procedures and was unlawful.
What do you think about the decision? 
Comments
comments