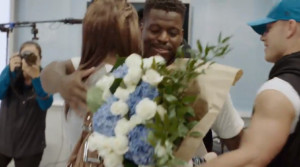 The best running back in Carolina Panthers' franchise history has just returned to the Queen City to retire as a Panther after spending last year's 2018 season with the New York Giants.
Jonathan Stewart was initially selected by the Panthers as the 13th pick in the 2008 draft to join RB DeAngelo Williams, later becoming known as "Double Trouble".
Over the next 10 seasons, Stewart racked up a total of 7,318 rushing yards, 1,295 receiving yards with 162 receptions, 51 rushing touchdowns, and 7 receiving touchdowns. His contract with the Panthers ended last year and NY Giants signed him, but after just 6 carries, he was placed on injured reserve.
He has now decided to sign a 1-day contract with the Panthers to return home and retire.
Stewart made the announcement yesterday via the Charlotte Lately magazine and blog;
With the addition of the 6 rushes with the NY Giant, Jonathan Stewart has a career total of 7,335 rushing yards, making him the 8th best running back in NFL history.
Comments
comments