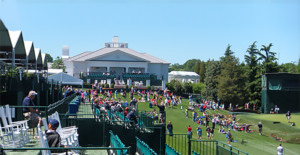 The Jimmie Johnson Foundation (JJF) announced the return of the annual Jimmie Johnson Foundation Golf Tournament, to be hosted at the prestigious Quail Hollow Club in Charlotte, on Oct. 4, 2021. After a brief pause due to COVID-19 protocols in 2020, the tournament returns in 2021 for its 14thyear and fourth straight event at Quail Hollow Club.
Funds raised will benefit the Jimmie Johnson Foundation Champions Grant program that supports K-12 public school programs in the following areas: science & technology, language & literacy, health & wellness, school improvement & infrastructure, and the arts. Champions Grants range from $20,000 to $100,000 and are distributed across the country.
The tournament, which in thirteen years has raised more than $8.5 million, will be open to the public for the first time in 2021. The JJF looks forward to hosting corporate guests, partners of the Jimmie Johnson Foundation and members of the public interested in playing the Quail Hollow Club, home to the annual Wells Fargo Championship, host of the 2017 PGA Championship and the 2022 Presidents Cup.
A large array of participation and sponsorship opportunities are available this year. For additional details about the Jimmie Johnson Foundation Golf Tournament and to register, visit www.jimmiejohnsonfoundation.org/events/jjfgolftournament
Comments
comments