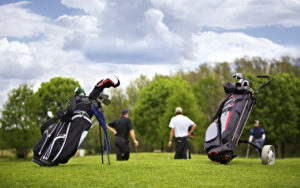 Following the final INDYCAR race of his rookie season, Jimmie Johnson returned to Charlotte, N.C. where he hosted the 14th Annual Jimmie Johnson Foundation Golf Tournament presented by Carvana at the prestigious Quail Hollow Club on Monday, Oct. 4, 2021. The Jimmie Johnson Foundation announced today this year's event raised over $465,000. The golf tournament has raised more than $9 million in fourteen years.
Funds raised will benefit the Jimmie Johnson Foundation Champions Grant program that supports K-12 public school programs in the following areas: science & technology, language & literacy, health & wellness, school improvement & infrastructure, and the arts. Champions Grants range from $20,000 to $100,000 and are distributed across the country. Recipients of the 2021 Champions Grant program will be announced later in the year.
The Foundation hosted 148 golfers at Quail Hollow Club, home to the annual Wells Fargo Championship, host of the 2017 PGA Championship and the 2022 Presidents Cup. Among the guests were members of golf teams from five local Charlotte schools.
"We are incredibly grateful for our event sponsors and supporters that made today's sell out event possible," said Executive Director of the Jimmie Johnson Foundation Alicia Morris Rudd. "We were able to bring together our donors, several local high school and college golf teams, and representatives from schools who have received the Champions Grants in past years. What a great day to bring together golf and giving back to the community."
For more information about the Jimmie Johnson Foundation, including the Champions Grant program, visit www.jimmiejohnsonfoundation.org.
Comments
comments