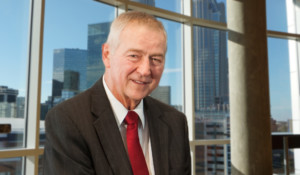 Forbes recently released their 2017 "Richest Person In Every State" study, naming James Goodnight as the richest person in North Carolina, with a total estimated net worth of $8.5 billion. He has over double the estimated net worth of NC's second richest, John Sall, also of Cary, with $4.7 billion, and our state's third richest, Clemmie Spangler, Jr., of Charlotte, with $4 billion.
Forbes also ranks James as the 48th richest person in America.
A true North Carolinian, James was born in Salisbury in 1943, grew up in Greensboro and Wilmington, and went to college at North Carolina State University. He eventually earned a PhD in statistics from NC State – his thesis was titled "Quadratic unbiased estimation of variance components in linear models with an emphasis on the one-way classification". He then became a professor at the school from 1972 to 1976.
In 1976, James and a few other collegues left NC State to form the SAS Institute, where James has remained as the CEO for over 40 years. He grew the company from $138,000 in revenue in its first year, to $420 million in 1993, and $3.16 billion in 2015.
He still owns two-thirds of the global company, which now has its software running in over 75,000 companies around the world, and is known for employee-friendly programs that include sports leagues, day care, and on-site dry cleaning.
In 1996, James and his wife Ann (who he met as a senior at NC State) founded an independent prep school, named Cary Academy.
Both of the Goodnights are heavily involved in the Cary community. He owns The Prestonwood Country Club and The Umstead Hotel and Spa on the edge of the SAS campus. His wife also recently opened An Cuisines, an Asian fusion restaurant in Cary.
Comments
comments