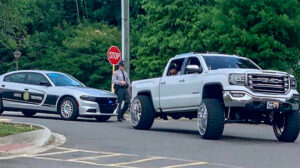 As of Wednesday, December 1st, 2021, the 'Carolina Squat' (aka the 'Tennessee Tilt') is officially illegal throughout the great state of North Carolina.
According to the specific language of House Bill 692 – the standard North Carolina vehicle code has now been modified to ban vehicle suspension modifications that simultaneously lift up the front of the vehicle and lowers the back of the vehicle.
The 'Carolina Squat' section of the bill reads:
"A private passenger automobile shall not be modified or altered by elevating the automobile more than 3 inches from the manufacturer's specified height in the front and lowering the automobile more than 2 inches from the manufacturer's specified height in the rear."
NC house members believe the vehicle modification makes ordinary headlights appear as high beams during normal driving conditions, endangering both oncoming motorists and pedestrians due to decreased visibility.
View this post on Instagram
What do you think about the new bill?
Do you think squatted trucks should be outlawed?
Comments
comments