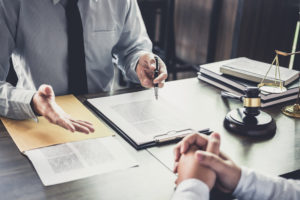 If you own an apartment within a complex, you may not think it's necessary to attend every strata meeting. However, you do have an important say over the way the complex operates as well as its maintenance and any alterations.
Body corporate lawyers can teach you everything you need to know about the legal side of owning an apartment, but it's also important to be there in person and understand the processes of being part of a complex.
Check out these compelling reasons why you should always attend your general meetings.
You can cast your vote on particular issues
It's not the strata manager that makes decisions on the common and shared areas – it's the owners! These decisions are usually made by way of vote after lot owners, like you, have had the opportunity to voice any concerns or put forward new ideas.
The AGM is the perfect time to bring up and discuss any problems you see in the general property or that could occur down the track. There may be an executive committee that works closely with the strata manager on things like financials, but when it comes to making overall decisions regarding the property, it's up to you and your fellow lot owners to cast your vote for a positive outcome.
It's one of the best ways to protect your investment
Landlords often take care of their private properties but fail to look into the common areas. This can be a massive pitfall for every owner within the complex, as common areas that become shabby or fall into disrepair are unsightly and could a; force out existing tenants and, b; fail to attract any potential new tenants.
So, one of the best parts about attending your AGMs is to ensure that if any issues are developing in the common areas their repairs can be budgeted for and quickly completed.
You should see your apartment as being part of a larger communal space where the rest of the complex is like a home's facade and gardens. You wouldn't let them fall into an average state, and so the best way to ensure this doesn't happen at your complex is to attend all AGMs.
You can have some control over important issues
Landlords often receive (hopefully positive) feedback from tenants regarding the common areas of the property. However, they may occasionally receive feedback stating the ways these areas could be improved to make a better, more aesthetically-pleasing space for all tenants.
But these positive changes can only be implemented with the help of financial resources. Since one owner can't make these decisions and secure the finances alone, the ideas have to be put forward at the AGM.
Hopefully, if you are able to present your ideas properly, they will be agreed upon and budgeted for, with the stunning outcomes just around the corner for all tenants to enjoy.
You get a better understanding of the complex
The Annual General Meeting (AGM) can give you an in-depth look into how the property operates as well as an insight into the Owners Corporation's financial endeavours.
It's the best way to meet other owners
Your property isn't an island – it's part of a complex where people with similar financial/property interests are working together to operate and maintain a great place to live.
AGMs are the best way to meet your fellow owners. Here, you create new relationships that, if fostered well, will work towards creating a great living situation for tenants and owners alike.
See, there are a lot of fantastic benefits to attending your complex's AGMs – they are the best way to ensure an amazing complex for everyone involved!
Comments
comments